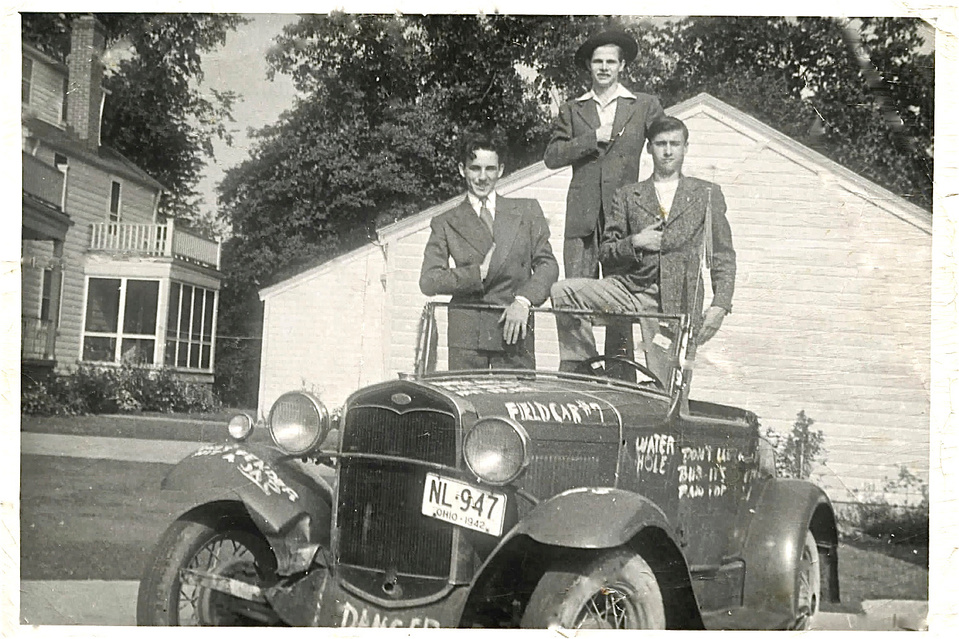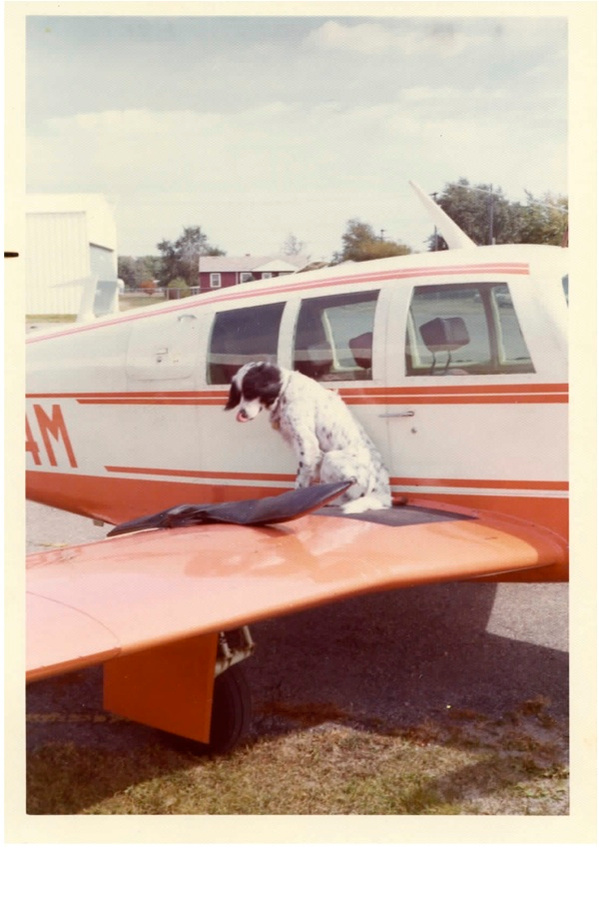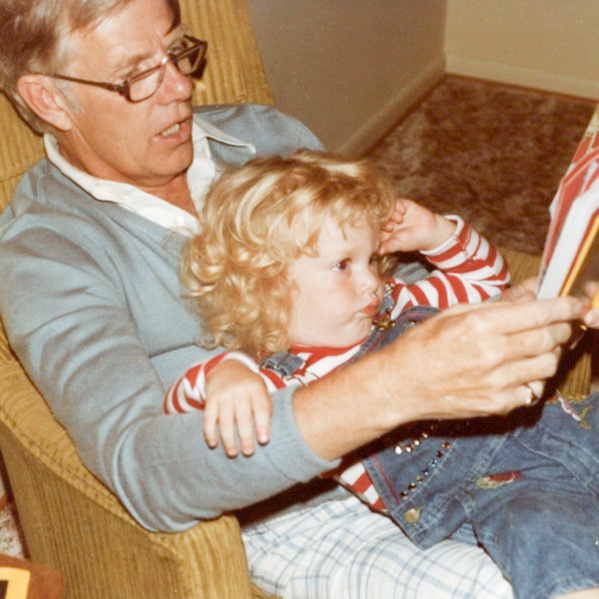 Whenever you venture into NostalgiaLand when sorting through old photographs, there's a risk you'll open up bittersweet emotions. I've been thinking about that lately. Next month will mark twenty years since my dad's sudden death. Sudden, immediate, though perhaps not unexpected. He'd endured two heart valve replacement surgeries but still suffered from atrial fibrillation. The plumbing was good. The electrical was not.

The photos I've posted here cover a few decades of his life. None of them are particularly "artful" but each of them is a perfect expression of my dad.

In photo number one he stands atop his first car complete with his own artistic flourishes. He would joke about having spent more for registration than what he paid for the car itself. He was 17 years old. Those carefree teenage years would soon be over when, as a 19 year-old newlywed, he would head off to the South Pacific in a US Navy Destroyer. WWII. "The Big One," as he always called it.

I'm the second born - the first girl. My mom must've taken that yellowed photo of my dad holding his fat baby aloft.

I don't recall EVER having had any type of service people in our home. No electrician, no plumber, no carpenters, no auto mechanics. Definitely not a TV repairman! On that day, my dad had dismantled the family Muntz to work on the picture tube. (yes, televisions used to have tubes) Whatever was malfunctioning, it was a given that he would be able to fix it. It didn't even matter if it belonged to us. My dad loved trash day. He might see a broken lawn mower, a lamp, a vacuum cleaner or whatever, and bring it home. Down to the basement with a new project. After he'd make it work, he'd leave it back where he found it. "Granddaddy Fix-it" was what our son called him.

The family dogs were really my dad's dogs. We never were "dogless". That's Babydoll waiting patiently on the wing of one of my dad's planes. He had always wanted to fly. Tried to enlist in the Army Air Corps but they gave him Navy. After he'd had a family of three, a home, and had built a good business, he bought his first twin engine plane.

The next photo is so DAD. He loved Christmas and was extravagant with his gifting. I guess he must've combined a flight (shopping somewhere he could've just as easily have driven to) and Christmas shopping - double good times.

Books have always been beloved in our family. The next photo is "read me a story" time when our son was a little guy. Looks like they're both engrossed! I love that photo.

The last one is of something my sister and I found when we were helping our mom clear out her household belongings. Eleven years of widowhood and she finally agreed it was time to leave Michigan and join her girls in California. That framed print was a prize he'd won at a golf invitational in 1990. It hung in the basement of their home - down in his "man cave" where he did his handiwork. My mom rarely went down there except to make sure the sump pump was working after a heavy rain. And so it was that we were stunned when we were packing up this print and read the title: "Western Golf and Country Club; Twelfth Hole. On May 17, 1997 my dad had a massive heart attack and passed away on that same spot. My sister has this hanging on the wall of her home office.

Take photos. Print photos. Treasure photos.